Detailed CD Listing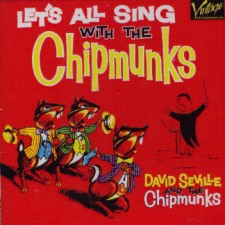 This listing reflects a current inventoried CD title. Every song on every CD we sell is the original recorded version you remember - guaranteed quality and satisfaction.
---

Vintage CD-490
US$13.95 or CDN$16.95
The Chipmunks featuring David Seville
Everything by them - 31 cuts!

1. The Alvin Show (Opening)
2. Alvin For President
3. Alvin's Harmonica
4. Alvin's Orchestra
5. America The Beautiful
6. Armens Theme
7. Chitty Chitty Bang Bang
8. Do Re Me
9. Gotta Get To Your House
10. Hushabye Mountain
11. I Wish I Could Speak French
12. Judy
13. Little Brass Band
14. Ragtime Cowboy Joe
15. Rudolph The Red Nosed Reindeer
16. She Loves You
17. Sing A Goofy Song
18. Spain
19. Supercalafragalisticexpialidocious
20. Television Interview
21. The Alvin Twist
22. The Bird On My Head
23. The Chipmunk Song
24. The Trouble With Harry
25. Tonight You Belong To Me
26. Twinkle Twinkle Little Star
27. Witch Doctor
28. Witch Doctor
29. Apple Picker
30. Sorry About That Herb
31. The Alvin Show (Closing)

---
Use Your Credit Card



and Order this CD Right Now!

| | |
| --- | --- |
| | Call 1-800-494-6129 to order this CD, or |
| | Click to order this CD using our secure server |
More ordering and shipping options
---