Detailed CD Listing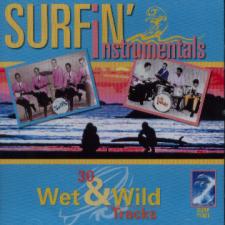 This listing reflects a current inventoried CD title. Every song on every CD we sell is the original recorded version you remember - guaranteed quality and satisfaction.
---

Surf CD-1001
US$13.95 or CDN$16.95
Surfin' Instrumentals

1. Baja – The Astronauts
2. Repeating – The Royal Coachmen
3. The Lonely Surfer – Jack Nitzsche
4. Theme From Endless Summer – The Sandals
5. Our Favorite Martian – Bobby Fuller
6. Bangalore – The Blazers
7. Wipe Out – The Safaris
8. Miserlou – The Trashmen
9. Boss – The Rumblers
10. Bustin' Surfboards – The Tornadoes
11. Loophole – The Royal Coachmen
12. Walk-Don't Run '64 – The Ventures
13. Surfer's Stomp – The Markets
14. Pipeline – The Chanteys
15. Twenty Thousand Leagues – The Champs
16. Mr. Moto – The Belair
17. Surf Rider – The Lively Ones
18. Hawaii Five-O – The Ventures
19. Inertia! – The Hustlers
20. Out Of Limits – The Marketts
21. Surf Jam – The Beach Boys
22. Monsoon – The Chanteys
23. Our Man Flint – The Challengers
24. Diamond Head – The Ventures
25. Riptide – The Chevells
26. Underwater – The Frogmen
27. Balboa Blue – The Marketts
28. Yang Bu – Jim Messina
29. Samoa – The Beachcombers
---
Use Your Credit Card



and Order this CD Right Now!

| | |
| --- | --- |
| | Call 1-800-494-6129 to order this CD, or |
| | Click to order this CD using our secure server |
More ordering and shipping options
---