Detailed CD Listing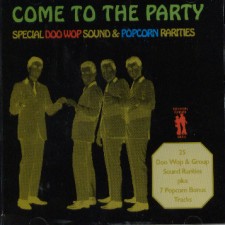 This listing reflects a current inventoried CD title. Every song on every CD we sell is the original recorded version you remember - guaranteed quality and satisfaction.
---

Teenagers Forever Music CD-001
US$13.95 or CDN$16.95
Come To the Party
Includes 4 page colour insert
25 Doo Wop & Group Sound Rarities & 7 Bonus Tracks

1. I'm Willing – The Cadillacs (Mercury label) 1960
2. Lady Luck – The Creations (Take Ten label) 1962
3. Let Me In Your Life – The Kac-Ties (Shelley label) 1963
4. When I See You – The Frontiers (MGM label) 1967
5. I'm Still Dancing – The Imperials (Capitol label) 1963
6. Better Luck Next Time – The Crowns (Vee Jay label) 1963
7. So Tenderly – The Darrells (Lyco label) 1961
8. Your Love Has Gone Away – The Drapers (Gee label) 1962
9. Just Beacause – The Dreamlovers (Heritage label) 1961
10. Caravan – The Deans (Starmaker label) 1962
11. Man Power – The Exotics (Coral label) 1962
12. Everybody Knows – The Fabulous Four (Chancellor label) 1961
13. A Beggar With a Dream – The Five Satins (Cub label) 1960
14. Marry Her Joe – The Fortune Tellers (Atlantic label) 1963
15. Just Say the Word – The Magnets (Groove label) 1964
16. Listen – The Matadors (Jamie label) 1962
17. The Love That I Lost – The Philadelphians (Campus label) 1955
18. Come to Me – The Sheppards (Vee Jay label) 1962
19. Forever – The Fabulous Four (Chancellor label) 1962
20. Papa – The Untouchables (Liberty label) 1962
21. I'll Be There – The Uptones (Lute label) 1962
22. Let the Fool Kiss You – The Velvets (Monument label) 1966
23. Such a Night – The Willows (Heidi label) 1964
24. Lonely Blue Boy – Will Wendel & Aktones (Trans American label) 1962
25. An Angel Cried – Hal Miller & the Rays (Topix label) 1961

Bonus Tracks
26. Handyman – Sparks of Rhythm (Apollo LP) 1962
27. Dangerous Lips – Drivers (Deluxe label) 1957
28. Dixie Woman – The Newports (Kent label) 1962
29. Hey Little Woman – Sonny Till & Orioles (Charlie Parker label) 1962
30. This is the Night – The Vocaleers (Old Town label) 1960
31. Cha Jezebel – The Notes (Capitol label) 1956
32. It's Such a Shame – The Willows (Heidi label) 1964

More Rare Rockin' Records label CDs
---
Use Your Credit Card



and Order this CD Right Now!

| | |
| --- | --- |
| | Call 1-800-494-6129 to order this CD, or |
| | Click to order this CD using our secure server |
More ordering and shipping options
---