Detailed CD Listing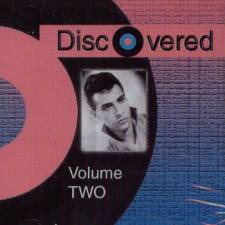 This listing reflects a current inventoried CD title. Every song on every CD we sell is the original recorded version you remember - guaranteed quality and satisfaction.
---

Recollect CD-5402
US$12.95 or CDN$14.95
Discovered - Volume 2

1. Open Up Your Heart – Cowboy Church Sunday School
2. Talkin' To The Blues – Jim Lowe
3. Record Hop Blues – The Quarter Notes
4. Vacation Days Are Over – The Argyles
5. Down The Aisle – Ike Clanton
6. Ruby Duby Du – Tobin Mathews And Co
7. Battle Of Gettysburg – Fred Darian
8. Black Land Farmer – Wink Martindale
9. Broken Heart And A Pillow Filled With Tears – Patti Page
10. You Don't Have To Be A Tower Of Strength – Gloria Lynne
11. Patricia Twist – Perez Prado
12. Heart Breaker – Dean Christie
13. Dutchess Of Earl – Bobbie Smith
14. Too Late To Worry – Babs Tino
15. The Epic Ride Of John H Glenn – Walter Brennan
16. Two-Ten, Six-Eighteen – Jimmie Rodgers
17. Rockin' Robin – The Rivieras
18. Her, Mr Sax Man – Boots Randolph
19. Don't Cross Over – Linda Brannon
20. The Other Ringo – Larry Finnegan
21. Long Tall Sally – The Kinks
22. He Wore The Green Beret – Lesley Miller
23. Let's Call It A Day Girl – Razor's Edge
24. I Fell Good – Lewis And Clarke Expedition
25. She Wears My Ring – Soloman King
---
Use Your Credit Card



and Order this CD Right Now!

| | |
| --- | --- |
| | Call 1-800-494-6129 to order this CD, or |
| | Click to order this CD using our secure server |
More ordering and shipping options
---