Detailed CD Listing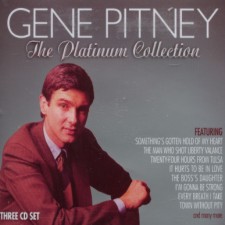 This listing reflects a current inventoried CD title. Every song on every CD we sell is the original recorded version you remember - guaranteed quality and satisfaction.
---

EMI CD-4828
US$19.95 or CDN$23.95
Gene Pitney - The Platinum Collection
His Greatest Hits - 50 Tracks on 3 CDs - includes 8 page booklet
The absolute best Gene Pitney compilation ever made!

Disc: 1
1. Man Who Shot Liberty Valance
2. Only Love Can Break a Heart
3. If I Didn't Have a Dime
4. Half Heaven, Half Heartache
5. It Hurst to Be in Love
6. Backstage
7. Twenty-Four Hours from Tulsa
8. (I Wanna) Love My Life Away
9. Something's Gotten Hold of My Heart
10. Mecca
11. That Girl Belongs to Yesterday
12. Last Chance to Turn Around
13. Looking Through the Eyes of Love
14. True Love Never Runs Smooth
15. I'm Gonna Be Strong
16. I Must Be Seeing Things
17. Princess in Rags

Disc: 2
1. Town Without Pity
2. Every Breath I Take
3. Who Needs It
4. Boss's Daughter
5. (In The) Cold Light of Day
6. Marianne
7. Hawaii
8. Yesterday's Hero
9. Cornflower Blue
10. She's a Heartbreaker
11. Billy You're My Friend
12. Nobody Needs Your Love
13. Just One Smile
14. Maria Elena
15. Somewhere in the Country
16. Shady Lady
17. Street Called Hope

Disc: 3
1. Hello Mary Lou
2. Yours Until Tomorrow
3. Lips Are Redder on You
4. Animal Crackers (In Cellophane Boxes)
5. Laying Games of Love
6. I've Got Five Dollars and It's Saturday Night
7. Mockin' Bird Hill
8. Louisiana Man
9. King and Queen - Melba Montgomery, Gene Pitney
10. Baby Ain't That Fine - Melba Montgomery, Gene Pitney
Bonus Italian versions
11. Innamorato (In Love Again)
12. Nessuno Mi Puo' Guidicare
13. Porche Ore Da Te (Twenty-Four Hours from Tulsa)
14. Saro Forte (I'm Gonna Be Strong)
15. Citta Spietata (Town Without Pity)
16. Con Te Verso l'Amore (Last Chance to Turn Around)

More Imported EMI label CDs
More Gene Pitney CDs
---
Use Your Credit Card



and Order this CD Right Now!

| | |
| --- | --- |
| | Call 1-800-494-6129 to order this CD, or |
| | Click to order this CD using our secure server |
More ordering and shipping options
---