Detailed CD Listing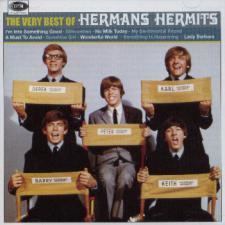 This listing reflects a current inventoried CD title. Every song on every CD we sell is the original recorded version you remember - guaranteed quality and satisfaction.
---

EMI CD-7321
Herman's Hermits - The Very Best Of

Disc 1
1. Im Into Something Good
2. Your Hand In Mine
3. Show Me Girl
4. I Know Why
5. Silhouettes
6. Canít You Hear My Heartbeat
7. Wonderful World
8. Dream On Dream On
9. Just A Little Bit Better
10. Take Love Give Love
11. A Must To Avoid
12. The Man With The Cigar
13. You Wonít Be Leaving
14. Listen People
15. This Door Swings Both Ways
16. For Love
17. No Milk Today
18. My Reservationís Been Confirmed
19. East West
20. What Is Wrong Ė What Is Right
21. Thereís A Kind Of Hush
22. Gaslite Street
23. Museum
24. Moonshine Man
25. I Can Take Or Leave Your Loving
26. Marcelís
27. Sleepy Joe
28. Just One Girl

Disc 2
1. Sunshine Girl
2. Nobody Needs To Know
3. Somethingís Happening
4. The Most Beautiful Thing In My Life
5. My Sentimental Friend
6. My Lady
7. Here Comes The Star
8. Itís Alright Now
9. Years May Come Years May Go
10. Smile Please
11. Bet Yer Life I Do
12. Searching For The Southern Sun
13. Lady Barbara
14. Donít Just Stand There
15. Oh You Pretty Thing
16. Leaning On A Lamp Post
17. Hold On!
18. Iím Hennery The Eighth I Am
19. The End Of The World
20. Mrs Brown Youíve Got A Lovely Daughter
21. I Gotta Dream On
22. Dandy
23. Donít Go Out Into The Rain

Bonus Tracks
24. Heartbeat
25. For Your Love
26. Bus Stop
27. Wings Of Love
28. London Look

More Imported EMI label CDs
More Herman's Hermits CDs
---
Use Your Credit Card



and Order this CD Right Now!

| | |
| --- | --- |
| | Call 1-800-494-6129 to order this CD, or |
| | Click to order this CD using our secure server |
More ordering and shipping options
---