Detailed CD Listing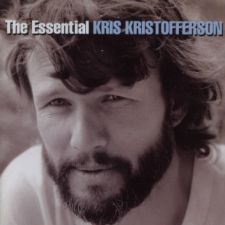 This listing reflects a current inventoried CD title. Every song on every CD we sell is the original recorded version you remember - guaranteed quality and satisfaction.
---

Columbia CD- 62000
US$13.95 or CDN$16.95
Kris Kristofferson - The Essential
2 CD Box Set of 37 Greatest Hits
Includes all his best recordings from 1970 to 1985
The finest Kris Kristofferson compilation we have ever seen here

Disc 1
1. Sunday Morniní Cominí Down
2. To Beat The Devil
3. Just The Other Side Of Nowhere
4. Me And Bobby Mcgee
5. The Best Of All Possible Worlds
6. Caseyís Last Ride
7. Help Me Make It Through The Night
8. Darbyís Castle
9. Jody And The Kid
10. Loving Her Was Easier
11. For The Good Times
12. Come Sundown
13. From The Bottle To The Bottom
14. Billy Dee
15. Breakdown
16. The Silver Tongued Devil And I
17. The Taker
18. The Pilgrim

Disc 2
1. Border Lord
2. The Saber And The Rose
3. Broken Freedom Song
4. Jesus Was A Capricorn
5. Shandy
6. Sugar Man
7. The Last Time
8. Nobody Wins
9. Iíd Rather Be Sorry
10. Highwayman
11. Donít Cuss The Fiddle
12. The Bigger The Fool, The Harder The Fall
13. Stranger
14. If You Donít Like Hank Williams
15. Here Comes That Rainbow Again
16. Once More With Feeling
17. How Do You Feel About Fooliní Around
18. Why Me
19. Please Donít Tell Me How The Story Ends

More CBS / Columbia / Redhot label CDs
---
Use Your Credit Card and Order this CD Right Now!

| | |
| --- | --- |
| | Call 1-800-494-6129 to order this CD, or |
| | Click to order this CD using our secure server |
More ordering and shipping options
---