Detailed CD Listing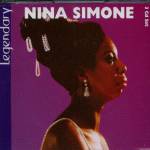 This listing reflects a current inventoried CD title. Every song on every CD we sell is the original recorded version you remember - guaranteed quality and satisfaction.
---

BMG CD- 8563
US$19.95 or CDN$23.95
Nina Simone - Legendary - 3 CD Box Set of Greatest Hits
Due to the size and weight of the CD packaging, this CD counts as 3 CDs shipped

Disc 1
1. To Be Young, Gifted And Black
2. I Love You Porgy
3. In The Morning
4. I Think It's Gonna Rain Today
5. Angel Of The Morning
6. Go To Hell
7. I Wish I Knew How It Would Feel To Be Free
8. Suzanne
9. The Backlash Blues
10. Cherish
11. Revolution (Parts 1 & 2)
12. Just Like Tom Thumb's Blues
13. Sunday In Savannah
14. I Get Along Without You Very Well
15. Everyone's Gone To The Moon
16. The Gin House Blues
17. Blues For Mama

Disc 2
1. Here Comes The Sun
2. I Want A Little Sugar In My Bowl
3. I Can't See Nobody
4. Just Like A Woman
5. Nobody's Fault But Mine
6. I Shall Be Released
7. Do What You Gotta Do
8. My Man's Gone Now
9. Turning Point
10. It Be's That Way Sometime
11. Please Read Me
12. Day And Night
13. Do I Move You
14. Since I Fell For You
15. Mississippi Goddamn
16. My Sweet Lord
17. Mr. Bojangles

Disc 3
1. To Love Somebody
2. Seems I'm Never Tired Of Lovin' You
3. Turn Turn Turn
4. Black Is The Colour Of My True Love's Hair
5. Ooh Child
6. The Pusher
7. Ain't Got No - I Got Life
8. The House Of The Rising Sun
9. The Times They Are A-Changin'
10. Turn Me On
11. New World Coming
12. The Look Of Love
13. Save Me
14. The Desperate Ones
15. My Baby Just Cares For Me
16. My Way

Use Your Credit Card and Order this CD Right Now!

| | |
| --- | --- |
| | Call 1-800-494-6129 to order this CD, or |
| | Click to order this CD using our secure server |
More ordering and shipping options
---