Detailed CD Listing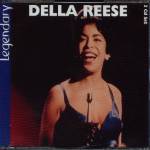 This listing reflects a current inventoried CD title. Every song on every CD we sell is the original recorded version you remember - guaranteed quality and satisfaction.
---

BMG CD- 5963
US$19.95 or CDN$23.95
Della Reese- Legendary - 3 CD Box Set of Greatest Hits
Due to the size and weight of the CD packaging, this CD counts as 3 CDs shipped.

This CD is discontinued and no longer available.
We have no inventory. Please do not order

Disc 1
1. Blue Skies
2. You Made Me Love You
3. I'm Beginning To See The Light
4. What's The Reason I'm Not Pleasin' You
5. My Heart Belongs To Daddy
6. Until The Real Thing Comes Along
7. Thou Swell
8. I'm Always Chasing Rainbows
9. Don't You Know
10. Goody Goody
11. You're Driving Me Crazy
12. If I Could Be With You One Hour Tonight
13. And The Angels Sing
14. Baby Won't You Please Come Home
15. Take My Heart
16. If You Are But A Dream
17. The End Of A Love Affair

Disc 2
1. The Lady Is A Tramp
2. Three O'clock In The Morning
3. I'll Get By
4. You're Nobody 'Til Somebody Love You
5. Serenade
6. Softly My Love
7. Whatever Lola Wants
8. Someday Sweetheart
9. I'm Just A Lucky So And So
10. Come-On-A-My House
11. Let's Do It
12. Love For Sale
13. It's So Nice To Have A Man Around The House
14. There's A Small Hotel
15. Always True To You In My Fashion
16. Daddy
17. Tea For Two

Disc 3
1. Let's Get Away From It All
2. Someday
3. Have You Ever Been Lonely
4. Please Don't Talk About E When I'm Gone
5. Till The End Of Time
6. Moon Love
7. How Did He Look
8. All By Myself
9. I Had The Craziest Dream
10. Guess I'll Hang My Tears Out To Dry
11. Always
12. Here's That Rainy Day
13. Little Girl Blue
14. And Now
15. These Foolish Things
16. Call Me

Use Your Credit Card and Order this CD Right Now!

| | |
| --- | --- |
| | Call 1-800-494-6129 to order this CD, or |
| | Click to order this CD using our secure server |
More ordering and shipping options
---