Detailed CD Listing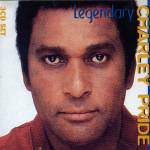 This listing reflects a current inventoried CD title. Every song on every CD we sell is the original recorded version you remember - guaranteed quality and satisfaction.
---

BMG CD- 5105
Charlie Pride - Legendary - 3 CD Box Set of Greatest Hits

Disc 1
1. Mississippi Cotton Picking Delta Town
2. My Eyes Can Only See As Far As You
3. All I Have To Offer You Is Me
4. She's Too Good To Be True
5. Just Between You And Me
6. She's Just An Old Love Turned Memory
7. The Day The World Stood Still
8. I Ain't All Bad
9. All His Children
10. A Shoulder To Cry On
11. Afraid Of Losing You Again
12. Is Anybody Going To San Antone
13. It's Gonna Take A Little Bit Longer
14. Let The Chips Fall
15. Someone Loves You Honey
16. Kiss An Angel Good Morning
17. You're My Jamaica

Disc 2
1. A Whole Lotta Things To Sing About
2. Where Do I Put Her Memory
3. Amazing Love
4. I'm Just Me
5. A Brand New Bed Of Roses
6. Does My Ring Hurt Your Finger
7. Don't Fight The Feelings Of Love
8. The Easy Parts Over
9. Kaw-Liga
10. Never Been So Loved
11. Burgers And Friends
12. Then Who Am I
13. You're So Good When You're Bad
14. Roll On Mississippi
15. I Know One
16. Wonder Could I Live There Anymore
17. Snakes Crawl At Night

Disc 3
1. Mountain Of Love
2. I Can't Believe That You've Stopped Loving Me
3. When I Stop Leaving
4. You Win Again
5. Night Games
6. You Almost Slipped My Mind
7. More And More
8. Me And Bobby Mcgee
9. Piroque Joe
10. I Don't Think She's In Love Anymore
11. More To Me
12. Missin' You
13. I'll Be Leaving Alone
14. Wings Of A Dove
15. The Power Of Love
16. Crystal Chandeliers

Use Your Credit Card and Order this CD Right Now!

| | |
| --- | --- |
| | Call 1-800-494-6129 to order this CD, or |
| | Click to order this CD using our secure server |
More ordering and shipping options
---