Detailed CD Listing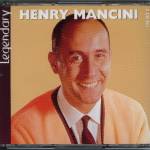 This listing reflects a current inventoried CD title. Every song on every CD we sell is the original recorded version you remember - guaranteed quality and satisfaction.
---

BMG CD- 5312
US$19.95 or CDN$23.95
Henry Mancini - Legendary - 3 CD Box Set of Greatest Hits
Due to the size and weight of the CD packaging, this CD counts as 3 CDs shipped.

Disc 1
1. Moon River
2. Pink Panther Theme
3. Peter Gunn Theme
4. Days Of Wine And Roses
5. Mystery Movie Theme
6. Baby Elephant Walk
7. Theme From A Love Story
8. Thorn Birds Theme
9. The Sweetheart Tree
10. Love Theme Romeo And Juliet
11. Dear Heart
12. Theme From Cades County
13. Charade
14. A Shot In The Dark
15. Evergreen
16. The Magnificent Seven
17. Penny Whistle Jig

Disc 2
1. Midnight Cowboy
2. Theme From Shaft
3. Windmills Of Your Mind
4. Secret Love
5. Mr Lucky
6. Experiment In Terror
7. Raindrops Keep Falling On My Head
8. Theme From Hatari
9. Breakfast At Tiffany's
10. The Untouchables
11. The Shadow Of Your Smile
12. The Good, The Bad, The Ugly
13. Mona Lisa
14. All His Children Beatles
15. Portrait Of The Beatles Medley: A Hard Days Night, And I Love Her, All My Loving, Norwegian Wood, Michelle, Yesterday

Disc 3
1. Theme From Molly Maguire
2. The Godfather Theme
3. Moonlight Sonata
4. Big Noise From Winnetka
5. By The Time I Get To Phoenix
6. Airport Love Theme
7. That Old Black Magic
8. Pie In The Face Polka
9. Unchained Melody
10. As Time Goes By
11. Two For The Road
12. The Summer Knows
13. Love Is A Many Splendored Thing
14. Misty
15. Everything I Do
16. Gigi
17. Cherokee
18. Medley: Days Of Wine & Roses, Moon River, Charade, Cameo For Flute

Use Your Credit Card and Order this CD Right Now!

| | |
| --- | --- |
| | Call 1-800-494-6129 to order this CD, or |
| | Click to order this CD using our secure server |
More ordering and shipping options
---