Detailed CD Listing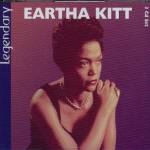 This listing reflects a current inventoried CD title. Every song on every CD we sell is the original recorded version you remember - guaranteed quality and satisfaction.
---

BMG CD- 8105
US$19.95 or CDN$23.95
Eartha Kitt - Legendary - 3 CD Box Set of Greatest Hits
Due to the size and weight of the CD packaging, this CD counts as 3 CDs shipped.

This CD is now sold out - we cannot get more
Please do not order

Disc 1
1. The Memphis Blues
2. I Want To Be Evil
3. Monotonous
4. Chantez-Les Bas
5. Beale Street Blues
6. My Heart Belongs To Daddy
7. Mambo De Paree
8. Lilac Wine
9. The Day That The Circus Left Town
10. Lisbon Antigua
11. Do You Remember?
12. Fascinating Man
13. Angelitos Negros
14. Somebody Bad Stole De Wedding Bells
15. Avril Au Portugal
16. Careless Love
17. Jonny, Wenn Du Geburtstag Hast

Disc 2
1. C'est Si Bon
2. Lovin' Spree
3. Annie Doesn't Live Here Anymore
4. Uska Dara - A Turkish Tale
5. Let's Do It
6. Under The Bridges Of Paris
7. Santa Baby
8. Mink, Schmink
9. Hey Jacque
10. Je Cherche Un Homme
11. The Heel
12. Smoke Gets In Your Eyes
13. Lullaby Of Birdland
14. Apres Moi
15. Thursday's Child
16. Lazy Afternoon
17. Looking For A Boy

Disc 3
1. A Woman Wouldn't Be A Woman
2. Toujours Gai
3. Just An Old Fasioned Girl
4. Mademoiselle Kitt
5. I'm A Funny Dame
6. St Louis Blues
7. Oh John
8. If I Love Ya, Then I Need Ya; If I Need Ya, Then I Want Ya Around
9. Strangers In The Starlight
10. If I Was A Boy
11. I've Got That Lovin' Bug Itch
12. My Heart's Delight
13. If I Can't Take It With Me
14. Proceed With Caution
15. Cha Cha Heels
16. I Will Survive

Use Your Credit Card and Order this CD Right Now!

| | |
| --- | --- |
| | Call 1-800-494-6129 to order this CD, or |
| | Click to order this CD using our secure server |
More ordering and shipping options
---