Detailed CD Listing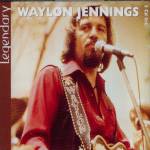 This listing reflects a current inventoried CD title. Every song on every CD we sell is the original recorded version you remember - guaranteed quality and satisfaction.
---

BMG CD- 8169
US$19.95 or CDN$23.95
Waylon Jennings - Legendary - 3 CD Box Set of Greatest Hits
Due to the size and weight of the CD packaging, this CD counts as 3 CDs shipped.

Disc 1
1. Anita, Youre Dreaming
2. Destiny's Child
3. Ruby, Don't Take Your Love To Town
4. Don't Waste Your Time
5. Brown Eyed Handsome Man
6. Only Daddy That'll Walk The Line
7. The Taker
8. A Good Hearted Woman
9. Lonesome, On'ry And Mean
10. Honky Tonk Heroes
11. Old Fice And Dimers
12. You Asked Me To
13. I'm A Ramblin' Man
14. I Can't Keep My Hands Off You
15. Amanda
16. This Time
17. Louisiana Women

Disc 2
1. Pick Up The Tempo
2. Heaven Or Hell
3. It's Not Supposed To Be That Way
4. If You Could Touch Her At All
5. Waymores Blues
6. Dreaming My Dreams With You
7. Are You Sure Hank Done It This Way?
8. The Last Letter
9. My Heroes Have Always Been Cowboys
10. Slow Movin' Outlaws
11. Bob Wills Is Still The King
12. Lovin' Her Was Easier
13. Can't You See
14. Luckenbach, Texas
15. Mammas, Don't Let Your Babies Grow Up To Be Cowboys
16. Looking For Suzanne
17. Don't You Think This Outlaw Bit's Done Got Out Of Hand

Disc 3
1. I've Always Been Crazy
2. The Conversation
3. Walktz Me To Heaven
4. Come With Me
5. I Ain't Living Long Like This
6. Storms Never Last
7. Theme From The Dukes Of Hazzard
8. Shine
9. Women Do Know How To Carry On
10. Just To Satisfy You
11. Lucille
12. America
13. Never Could Toe The Mark
14. The Broken Promise Land
15. Whatever Happened To The Blues
16. Nowhere Road

Use Your Credit Card and Order this CD Right Now!

| | |
| --- | --- |
| | Call 1-800-494-6129 to order this CD, or |
| | Click to order this CD using our secure server |
More ordering and shipping options
---