Detailed CD Listing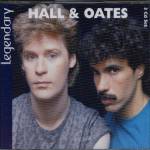 This listing reflects a current inventoried CD title. Every song on every CD we sell is the original recorded version you remember - guaranteed quality and satisfaction.
---

BMG CD- 1303
US$19.95 or CDN$23.95
Hall & Oates- Legendary - 3 CD Box Set of Greatest Hits
Due to the size and weight of the CD packaging, this CD counts as 3 CDs shipped.

Disc 1
1. Sara Smile
2. Do What You Want, Be What You Are
3. Rich Girl
4. Back Together Again
5. Bigger Than Both Of Us
6. It's A Laugh
7. I Don't Wanna Lose You
8. Wait For Me
9. How Does It Feel To Be Back
10. Hard To Be In Love With You
11. Everytime You Go Away
12. You've Lost That Lovin' Feeling
13. Kiss On My List
14. You Make My Dreams
15. Mano O Mano
16. Tell Me What You Want
17. Some Men

Disc 2
1. Private Eyes
2. Looking For A Good Sign
3. I Can't Go For That
4. Unguarded Minute
5. Did It In A Minute
6. Head About Water
7. Maneater
8. Delayed Reaction
9. One On One
10. Art Of Heartbreak
11. Guessing Games
12. Family Man
13. Open All Night
14. Crime Pays
15. Say It Isn't So
16. Adult Education
17. Going Through The Motions

Disc 3
1. Dance On Your Knees
2. Out Of Touch
3. Cold Dark And Yesterday
4. Method Of Modern Love
5. Bank On Your Love
6. Some Things Are Better Left Unsaid
7. Possession Obsession
8. All American Girl
9. The Way You Do The Things You Do
10. Everything Your Heart Desires
11. So Close
12. Starting All Over Again
13. I Ain't Gonna Take It This Time
14. Don't Hold Back Your Love
15. Change Of Season
16. Everywhere I Look
---
Use Your Credit Card and Order this CD Right Now!

| | |
| --- | --- |
| | Call 1-800-494-6129 to order this CD, or |
| | Click to order this CD using our secure server |
More ordering and shipping options
---