Detailed CD Listing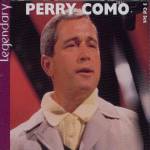 This listing reflects a current inventoried CD title. Every song on every CD we sell is the original recorded version you remember - guaranteed quality and satisfaction.
---

BMG CD- 5311
US$19.95 or CDN$23.95
Perry Como - Legendary - 3 CD Box Set of Greatest Hits
Due to the size and weight of the CD packaging, this CD counts as 3 CDs shipped.

Disc 1
1. And I Love You So
2. Round And Round
3. Yesterday
4. Moon Talk
5. El Condor Pasa
6. Something
7. Magic Moments
8. It All Seems To Fall Into Line
9. Just Born (To Be Your Baby)
10. Feelings
11. Mi Casa Su Casa
12. Snowbird
13. For The Good Times
14. Kewpie Doll
15. It's Impossible
16. Try To Remember
17. Catch A Falling Star
18. Wind Beneath My Wings

Disc 2
1. I Believe In Music
2. Sing
3. Unchained Melody
4. Dream On Little Dreamer
5. Raindrops Keep Falling On My Head
6. You Light Up My Life
7. When I Need You
8. Mandolins In The Moonlight
9. Killing Me Softly With Her Song
10. We Kiss In A Shadow
11. Tie A Yellow Ribbon 'Round The Old Oak Tree
12. Where You're Concerned
13. Walk Right Back
14. Juke Box Baby
15. The Most Beautiful Girl
16. Moon River
17. I Know

Disc 3
1. Don't Let The Stars Get In Your Eyes
2. I Left My Heard In San Francisco
3. Hawaiian Wedding Song
4. Seattle
5. The Days Of Wine And Roses
6. Beyond Tomorrow
7. Ivy Rose
8. More
9. We've Only Just Begun
10. Papa Loves Mambo
11. Close To You
12. Let's Do It Again
13. Glendora
14. There's A Kind Of Hush
15. Delaware
---
Use Your Credit Card and Order this CD Right Now!

| | |
| --- | --- |
| | Call 1-800-494-6129 to order this CD, or |
| | Click to order this CD using our secure server |
More ordering and shipping options
---