Detailed CD Listing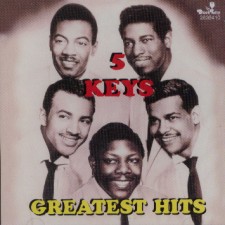 This listing reflects a current inventoried CD title. Every song on every CD we sell is the original recorded version you remember - guaranteed quality and satisfaction.
---

Blue Velvet CD- 3641
US$13.95 or CDN$16.95
The Five Keys - Greatest Hits

1. Close Your Eyes
2. Ling Ting Tong
3. Donít You Know I Love You
4. You Broke the Rules of Love
5. Out of Sight Out of Mind
6. Peace and Love
7. Cause youíre My Lover
8. Me Make Um Pow Wow
9. Wisdom of a Fool
10. Iím Alone
11. Doggone It You Did It
12. From the Bottom of My Heart
13. Gee Whittakers
14. I Wish Iíd Never Learned to Read
15. Four Walls
16. Boom Boom
17. Do Anything
18. Itís a Groove
19. Now Donít That Prove I Love You
20. With All My Love
21. Really-O, Truly-O
22. The Verdict
23. Youíre For Me
24. Tiger Lilly
25. Whippety Whirl
26. From Me To You
27. The Face of an Angel
28. Sheís the Most
29. Thatís Right
30. The Blues Donít Care
31. My Pigeonís Gone
32. This I Promise You
33. What Goes On
34. One Great Love
35. Every Heart is Home at Christmas
---
Use Your Credit Card and Order this CD Right Now!

| | |
| --- | --- |
| | Call 1-800-494-6129 to order this CD, or |
| | Click to order this CD using our secure server |
More ordering and shipping options
---