Detailed CD Listing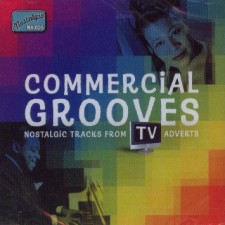 This listing reflects a current inventoried CD title. Every song on every CD we sell is the original recorded version you remember - guaranteed quality and satisfaction.
---

Nostalgia Naxos CD- 2798
US$8.95 or CDN$10.95
Commercial Grooves

1. Mama Don' Wan' No Peas An' Rice An' Coconut Oil - Count Basie
[Crisp 'N' Dry]
2. I Don't Want To Set The World On Fire - The Ink Spots
[Burger King]
3. It's Only A Paper Moon - Ella Fitzgerald
[Galaxy]
4. La Mer - Charles Trenet
[Audi A4]
5. Whispering Grass - The Ink Spots
[British Telecom]
6. Tico Tico - The Andrews Sisters
[Sainsbury's Extra Legally / Whiskas Cat Food]
7. Teddy Bears' Picnic - Henry Hall & The BBC Dance Orch; Val Rosing
[Sony Camcorders]
8. Let's Face The Music And Dance - Fred Astaire
[Allied Dunbar]
9. Someone To Watch Over Me - Ella Fitzgerald
[PPP Healthcare]
10. Stompin' At The Savoy - Benny Goodman
[P&O European Ferries]
11. Into Each Life Some Rain Must Fall - The Ink Spots
[Woolworths Ladybird Collection]
12. Boum! - Charles Trenet
[PPP Healthcare]
13. Hold Tight (Want Some Seafood Mama) - Fats Waller
[Whiskas Cat Food]
14. Tiger Rag - The Mills Brothers
[Vauxhall Astra]
15. I Yi Yi Yi Yi (I Like You Very Much) - Carmen Miranda
[Kellogg's Fruit 'N' Fibre]
16. La Vie En Rose - Edith Piaf
[Volkswagen Polo / Delight]
17. Let's Do It (Let's Fall In Love) - Cole Porter
[Cadbury's Cream Egg]
18. God Bless The Child - Billie Holiday
[Volkswagen Passat]
19. Do I Worry? - The Ink Spots
[Volvo C70]
20. Falling In Love Again - Marlene Dietrich
[Marks & Spencer / Financial Services]
21. In The Mood - Glenn Miller
[Radion Plus / Walkers Doritos / Anchor Butter]

More Nostalgia Naxos label CDs
---
Use Your Credit Card



and Order this CD Right Now!

| | |
| --- | --- |
| | Call 1-800-494-6129 to order this CD, or |
| | Click to order this CD using our secure server |
More ordering and shipping options
---