Detailed CD Listing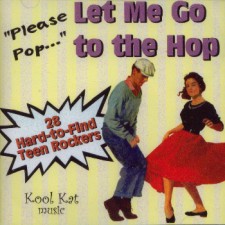 This listing reflects a current inventoried CD title. Every song on every CD we sell is the original recorded version you remember - guaranteed quality and satisfaction.
---

Kool Kat CD- 102
US$13.95 or CDN$16.95
Please Pop Let Me Go to the Hop

1. Let Me Go To the Hop - Sweethearts (Power label)
2. Rockin' Pneumonia - Tony Grecco (Big Beat label)
3. Sweet Shop - Larry Kirby (Apollo label)
4. Party Party - Dean Beard (Atlantic label)
5. Little Mama - Andy Wilson (Athens label)
6. What Would I Do - Jerry Foster & His Band (Backbeat label)
7. Bony Moronie - Dave McQuitty With Viscounts (Vee Gee label)
8. Sidewalk Rock - Jimmie Byron (Teen label)
9. Sequeelin' Parrot (Twist) - Vince Edwards (Russ-Fi label)
10. Eddie Can I Park in Your Lot - Sharon Mason (Dore label)
11. Rock and Roll Age - Four J's (United Artists label)
12. Say Mama - Tony Grecco (Big Beat label)
13. I'd Love To Take You Walking - Little Denny & Torkeys (Perry label)
14. Uh Uh Honey - Mary Anne Curtis (Pontiac label)
15. Baby, Tonight - Harmony Brothers (Bobbin label)
16. Grapevine - Doodle Owens (Backbeat label)
17. Skippin' and a Jumpin' - Flints (Okeh label)
18. On Down the Line - Zig Dillon (R label)
19. Your Driver's License, Please - Bobby Please (Era label)
20. Your Kind of Love - Bob & Rockbillies (Blue Chip label)
21. Tiddley Diddley - Hank Price III (Strut label)
22. Bird Brain - Dapper Dans (Ember label)
23. Hawaiian War Rock - Gem Tones (Scarlet label)
24. Sandra - Willie Zango (Gizmo label)
25. Boppin' Bobbie Jean - King Victor (Madison label)
26. Something Else - Tony Grecco (Big Beat label)
27. Teen Twist - Buddy Miller (VEM label)
28. Baby Why Did You Have To Go - Bob & Rockbillies (Blue Chip label)
---
Use Your Credit Card



and Order this CD Right Now!

| | |
| --- | --- |
| | Call 1-800-494-6129 to order this CD, or |
| | Click to order this CD using our secure server |
More ordering and shipping options
---