Detailed CD Listing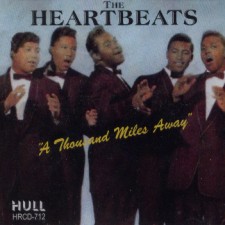 This listing reflects a current inventoried CD title. Every song on every CD we sell is the original recorded version you remember - guaranteed quality and satisfaction.
---

Hull CD-712
US$13.95 or CDN$16.95
Heartbeats - A Thousand Miles Away
Includes 34 tracks

1. A Thousand Miles Away
2. Your Way
3. People are Talking
4. Rockiní Aní Rolliní
5. After New Years Eve
6. Crazy For You
7. Hurry Home Baby
8. Darling How Long
9. Hydromatic Drive
10. Sometime I Wonder
11. Oh Baby Donít
12. Down On My Knees
13. Everybodyís Somebodyís Fool
14. Hands Off My Baby
15. Be Mine Be Mine
16. Have Rock Will Roll
17. I Want to Know
18. I Wonít be the Fool Anymore
19. Wedding Bells
20. Atís Alright Wit Me
21. When I Found You
22. Lonely Lover
23. 500 Miles to Go
24. Loviní Sickness
25. I Found a Job
26. Stars in the Sky
27. One Day Next Year
28. Tell Me
29. People are Talking (Fast version)
30. After New Years Eve (Acapella version)
31. Be Mine Be Mine (Acapella version)
32. Donít You Know (Acapella version)
33. A Thousand Miles Away (Acapella version)
34. Daddyís Home (by Shep & the Limelights)
---
Use Your Credit Card



and Order this CD Right Now!

| | |
| --- | --- |
| | Call 1-800-494-6129 to order this CD, or |
| | Click to order this CD using our secure server |
More ordering and shipping options
---