Detailed CD Listing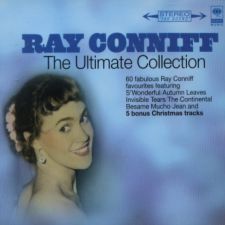 This listing reflects a current inventoried CD title. Every song on every CD we sell is the original recorded version you remember - guaranteed quality and satisfaction.
---

Columbia CD- 7437
Ray Conniff - The Ultimate Collection

This CD is discontined and we have no inventory. Please

3 CD Box Set of 65 Greatest Hits - includes 8 page colour booklet
The finest Ray Conniff compilation we have ever seen here
Due to the size of the CD packaging - this CD counts as 3 CDs shipped

Disc 1
1. S'wonderful
2. As Time Goes By
3. It Had To Be You
4. Theme From Tchaikovsky's First Piano Concerto
5. Oh What A Beautiful Morning
6. Cheek To Cheek
7. Rosalie
8. Buttons And Bows
9. Improvisation On The Liebestraume
10. Just One Of Those Things
11. Brazil
12. Deep Purple
13. Love Me Tender
14. Love Letters In The Sand
15. You're The Cream In My Coffee
16. Medley: Autumn Leaves/Just Walking In The Rain
17. Medley: I Wish I Didn't Love You So/Bewitched
18. The Continental
19. Lady Of Spain
20. Kiss Of Fire

Disc 2
1. Volare
2. Mack The Knife
3. This Love Of Mine
4. You'll Never Know
5. You Oughta Be In Pictures
6. Invisible Tears
7. Friendly Persuasion
8. I'm Always Chasing Rainbows
9. So Rare
10. Jamaica Farewell
11. Somewhere My Love
12. King Of The Road
13. Red Roses For A Blue Lady
14. Mrs. Robinson
15. This Is My Song
16. Georgy Girl
17. Hawaiian Wedding Song
18. It Must Be Him
19. Spanish Eyes
20. Gentle On My Mind

Disc 3
1. Turn Around, Look At Me
2. Angel Of The Morning
3. Those Were The Days
4. Do You Know The Way To San Jose
5. Besame Mucho
6. Mame
7. Jean
8. A Man Without Love
9. Bridge Over Troubled Water
10. Everybody's Talkin'
11. Honey Come Back
12. I'll Never Fall In Love Again
13. Snowbird
14. What Have They Done To My Song Ma
15. El Condor Pasa
16. Sweet Caroline
17. Delilah
18. I'd Like To Teach The World To Sing
19. Alone Again
20. Playground In My Mind
21. Rudolph The Red Nosed Reindeer
22. Here Comes Santa Claus
23. Silver Bells
24. Jingle Bells
25. White Christmas

More CBS / Columbia / Redhot label CDs
More Ray Conniff CDs
---
Use Your Credit Card and Order this CD Right Now!

| | |
| --- | --- |
| | Call 1-800-494-6129 to order this CD, or |
| | Click to order this CD using our secure server |
More ordering and shipping options
---