Detailed CD Listing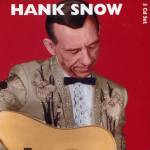 This listing reflects a current inventoried CD title. Every song on every CD we sell is the original recorded version you remember - guaranteed quality and satisfaction.
---

BMG CD- 7697
US$19.95 or CDN$23.95
Hank Snow - Legendary - 3 CD Box Set of Greatest Hits
Due to the size and weight of the CD packaging, this CD counts as 3 CDs shipped

Disc 1
1. I'm Moving On
2. Marriage Vow
3. I Cried But My Tears Were Too Late
4. With This Ring I Thee Wed
5. The Rhumba Boogie
6. The Golden Rocket
7. You Pass Me By
8. Unwanted Sign Upon My Heart
9. The Engineers Child
10. One More Ride
11. Down The Trail Of Achin' Hearts
12. Bluebird Island
13. Music Makin' Mamma From Memphis
14. The Highest Bidder
15. The Gold Rush Is Over
16. Why Do You Punish Me
17. Married By The Bible, Divorced By The Law

Disc 2
1. Lady's Man
2. A Fool Such As I
3. The Gal Who Invented Kissin'
4. I Went To Your Wedding
5. The Boogie Woogie Flying Cloud
6. Born To Be Happy
7. Honeymoon On A Rocket Ship
8. Spanish Fireball
9. For Now And Always
10. Roll Along Kentucky Moon
11. The Next Voice You Hear
12. Would You Mind
13. Stolen Moments
14. It's You Only You That I Love
15. Any Old Time
16. I've Forgotten You

Disc 3
1. I Don't Hurt Anymore
2. Yellow Roses
3. Blossoms In The Springtime
4. Miller's Cave
5. Begger To A King
6. I've Been Everywhere
7. Ninety Miles An Hour
8. Let Me Go Lover
9. The Wishing Well
10. Crack In The Box Car Door
11. I'm Not At All Sorry For You
12. It's Over, Over Nothin'
13. North To Chicago
14. There's The Chair
15. Four In The Morning
16. The City Of New Orleans
17. Hello Love

Use Your Credit Card and Order this CD Right Now!

| | |
| --- | --- |
| | Call 1-800-494-6129 to order this CD, or |
| | Click to order this CD using our secure server |
More ordering and shipping options
---